Emergency Pediatric Dentist — Hamilton, ON
Fast & Gentle
Emergency Dentistry
for
Children
Accidents happen, especially if you have children! Our team at Hamilton Pediatric Dental Care offers same-day emergency dentistry whenever your little one is dealing with out-of-the-ordinary oral pain, a knocked-out tooth, or a lost restoration. Just call our dental office and follow the instructions on the voicemail. Our emergency pediatric dentist in Hamilton, ON will try to see you and your child as soon as possible so you don't have to wait in discomfort. When you need fast and gentle emergency dentistry for children, don't hesitate to give us a call.
Why Choose Hamilton Pediatric Dental Care for Children's Emergency Dental Care?
Same-Day Emergency Dentistry Appointments
Calming & Safe Dental Sedation for Children
Dr. Rullo & Our Team Have Specialized Pediatric Training
What to Do in a Dental Emergency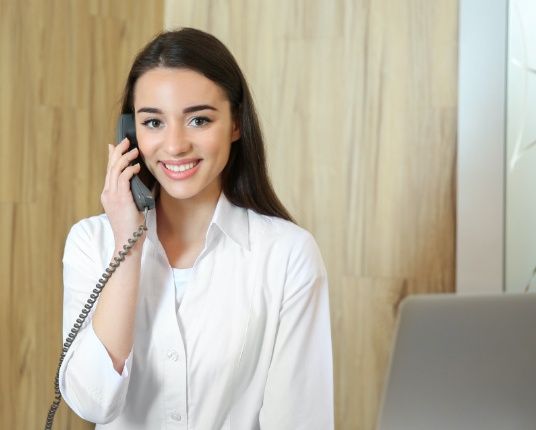 It's incredibly difficult to deal with dental emergencies because they always happen when you least expect them to. Not only will you need to comfort and calm down your little one, but you'll also need to think fast to make sure that their smiles don't sustain any additional damage. If you ever find yourself in a stressful dental emergency situation, follow these steps:
Step 1: Call Us As Soon As You Can. Call us right away so we can schedule your little one for a same-day emergency appointment. Over the phone, we'll walk you through how to manage your child's emergency until you reach us.
Step 2:Visit Dr. Rullo for an Exam. When you arrive, your emergency pediatric dentist Dr. Rullo or one of our other experienced dentists will see you and your child for an exam right away. We'll evaluate the situation, fully explain the services we recommend, and work with you to create a custom treatment plan.
Step 3:Get Your Child the Care They Need! As soon as a treatment plan has been made, our team will jump into action to protect your child's precious pearly whites. We also offer calming dental sedation for children who are particularly scared or uncomfortable. Before you know it, your child will have a happy and healthy smile once again!
The Most Common Pediatric Dental Emergencies
A wide range of situations qualify as a dental emergency. We trust your instincts as a parent and encourage you to call us if you think your child may need urgent dental care. If your child has damaged a tooth, is experiencing pain in the mouth, or exhibiting any unusual symptoms that have you worried, you should get in contact with us right away. We'll help you assess the situation and determine how urgently it needs to be addressed. From there, we can schedule an appointment accordingly and walk you through some basic first aid tips. Below, you'll find a few of the most common pediatric dental emergencies we treat.
Understanding the Cost of Pediatric Dental Emergencies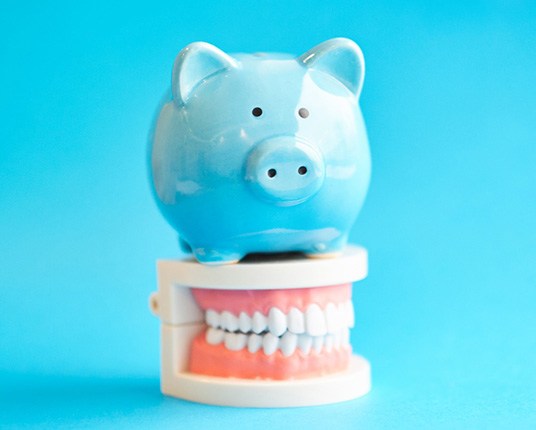 The cost of your child's emergency dental appointment will depend on a couple of key factors, including the underlying oral health problem, what type of treatment they need, and whether you have dental insurance. Our team values transparency, so we always take the time to walk parents through treatments in detail and explain why we're recommending them. If you have any questions about financing or cost that we don't cover, please don't hesitate to ask.
Every Dental Emergency is Different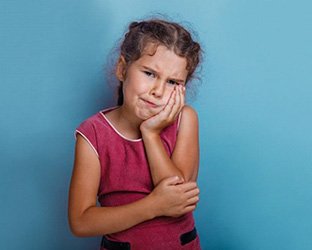 All sorts of different factors contribute to the cost of dental emergency treatment, but your child's initial visit should be relatively inexpensive. During their appointment, our team will take a look at their smile and determine what type of treatment is necessary to restore their smile to health. Until the issue is looked at, it's pretty much impossible to accurately determine the exact amount it will cost. Here are some common solutions to dental emergencies:
Root Canals for baby teeth
Tooth extractions
Space maintainers
Crowns and fillings
Fluoride treatments
Athletic mouthguards
You can rest assured knowing that our dental team is prepared to thoroughly explain our findings, recommended treatment plan, and what the treatment is likely to cost. No one wants to end up with a bill that's higher than expected.
Does Dental Insurance Cover Dental Emergencies?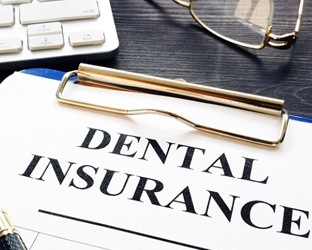 In the majority of cases, dental insurance plans will offer some amount of coverage for emergency situations. In some places, one yearly emergency dental exam is fully covered. Common services associated with tooth pain, like root canal therapy and extractions, can receive partial coverage (anywhere between 50-80%). Keep in mind that all plans are different and yearly maximums will usually come into effect. It's a good idea to confirm what is covered with your dental insurance company before treatment. At Hamilton Pediatric Dental Care, we accept all insurance for patients 17 years of age and under without limitations. Our team is happy to help you get the most out of your insurance plan and help you save from out-of-pocket costs.
Taking Care of Your Child's Smile Can Save You Money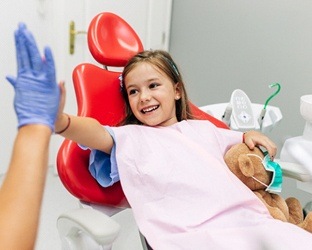 Not all dental emergencies are preventable, as unexpected, unavoidable incidents can occur. However, by implementing preventive measures in your family's oral hygiene routines, you can reduce the probability of dental emergencies occurring in the future. This can save hundreds, or even thousands of dollars over time.
Always keep an eye out for changes going on. Any new oral pain or visible changes in the mouth can indicate that there is an issue that needs to be addressed. By caring for dental problems as soon as you can, you can keep them from progressing and becoming more serious over time. The longer that dental treatment is put off, the more it is likely to cost.
Dental emergencies seem to always happen out of the blue, so we offer same-day appointments for urgent dental needs. Contact our office so we can restore your child's smile to health!
How to Prevent Dental Emergencies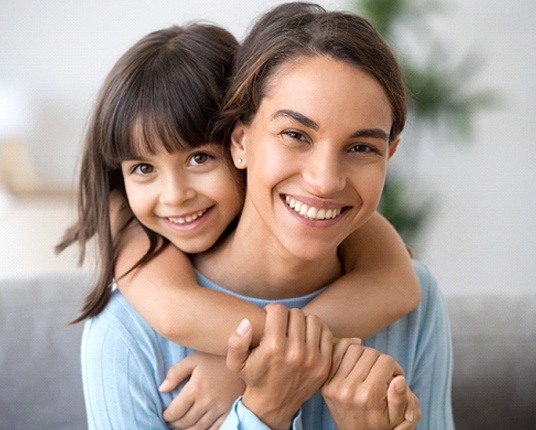 We're always ready to help a child's smile in need, but the best kind of dental emergency is one that never happens. You can't completely avoid problems with your child's teeth and gums, but there are plenty of steps you can take to help keep their smiles safe and make it less likely that they'll have to visit us for urgent care. Below are some basic steps that you can take to help your little one take better care of their growing grin.
Make Sure They Visit the Dentist Regularly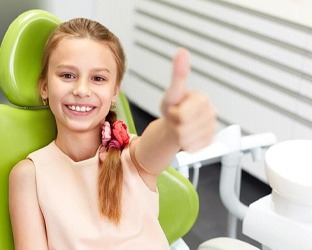 One of the best things you can do is make sure that your child is receiving a dental checkup every six months. You can't assume that you'll know immediately if something is wrong with your child's mouth; cavities and other dental issues often don't start exhibiting obvious symptoms until they've reached a fairly advanced stage. If your child visits our office every six weeks, we'll have a chance to find and treat small dental problems long before they have a chance to cause an emergency.
Teach Good Oral Hygiene Habits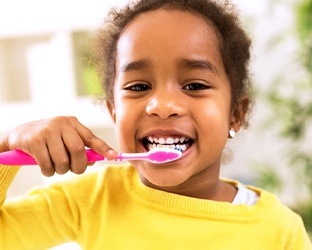 Children aren't born knowing the right oral health habits, so it's up to you to help them keep their smiles clean while they're still learning about proper brushing and flossing. You can brush your child's teeth for them until around the age of 6; at that point, they're likely to be responsible enough and have the dexterity to brush their own teeth. They may have trouble reaching certain areas of the mouth, so it's a good idea to have dental sealants placed for extra protection while they're still learning.
Make Sure They Eat Smile-Friendly Foods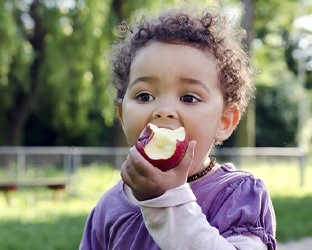 Think carefully about how the foods your child eats affect their smile. Too many sugars and carbohydrates can contribute to the accumulation of harmful bacteria that can cause cavities. Try to limit the number of sweet treats that your child indulges in and make sure they get plenty of fruits and vegetables instead. The nutrients in these foods contribute to healthy gums, and they can naturally clear plaque and bacteria from the mouth.
Get Them a Mouthguard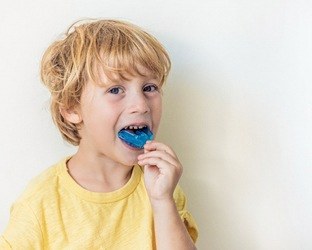 When your child plays sports, they should always be wearing mouthguard. Accidents can happen almost any time on the field or on the court, so make sure your young athlete always has protection against sudden blows to the mouth. A customized mouthguard is usually better than a store-bought one since it fits perfectly on the teeth; this improves the protection it provides, and it's also more comfortable for your child.
Teach Them Proper Habits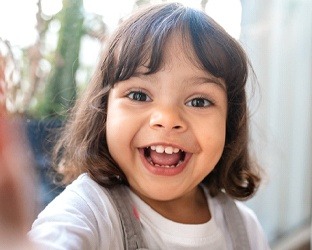 The habits your little one forms early in life help shape their smile in the future. Make sure that they know what habits are bad for their teeth and should be avoided. One particularly bad habit that's easy to get into is tearing open packages with the teeth instead of tools. Take the time to teach your child to always reach for the scissors instead of using their teeth as tools when they are dealing with a particularly stubborn package.
Pediatric Dental Emergency FAQs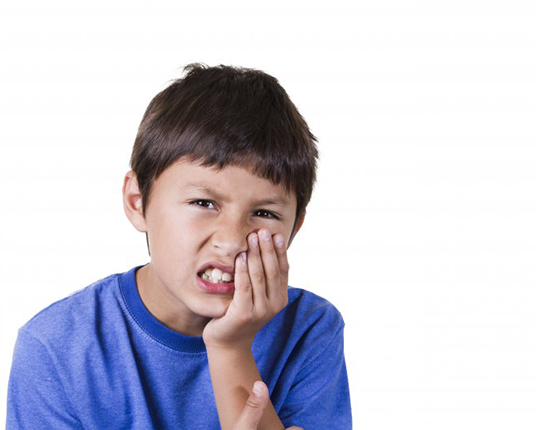 Few things are as nerve-racking as seeing your child in pain, especially when you're unsure how to handle the situation. Rest assured that once you call our team at Hamilton Pediatric Dental Care, we'll let you know exactly what to do to get your little one's smile back to full health. We'll also answer any questions you might have at any point in the process. For your convenience, we've also included the answers to several frequently asked questions about pediatric emergency dentistry below.
Will My Child's Toothache Go Away on Its Own?
Unfortunately, most toothaches don't go away on their own, no matter the person's age. Teeth are unable to heal themselves when they're infected or damaged, unlike most other parts of the body. If your son or daughter is complaining about tooth pain, definitely contact your emergency children's dentist in Hamilton as soon as possible. A toothache could indicate several possible oral health concerns, such as a cavity, and our dentists will want to identify and treat the problem right away.
Are Knocked-Out Baby Teeth a Dental Emergency?
Baby teeth are meant to come out eventually, but that doesn't mean a knocked-out baby tooth isn't a big deal. Our dentists must make sure the underlying permanent tooth, and the rest of your child's mouth, is unharmed. For that reason, it's best to treat a knocked-out baby tooth as a pediatric dental emergency in Hamilton. Until you and your child can get to our office, do NOT attempt to place the tooth back in its original socket; it could damage the adult tooth, and your child may accidentally swallow or choke on it. If the tooth was close to falling out naturally, we might not need to do anything, but in other cases, we may have to place a space saver to prevent the neighboring teeth from drifting into the gap until the permanent tooth erupts.
Should I Place My Child's Knocked-Out Tooth in Water?
A knocked-out baby tooth doesn't need to be kept moist, but a dislodged permanent tooth definitely does. Although you can rinse off the tooth with water, do NOT store it in water as you bring it to our office. Water could actually damage the cells on the surface of the tooth's root, which may render it unable to be reimplanted in the socket. Instead, you can store the tooth in a container of milk or saline solution. Better yet, try to carefully place it back in the socket and have your child bite down to hold it there until you get to our office. This will increase the chances of our team being able to successfully reattach the tooth.
What Should I Keep in My Child's Dental Emergency Kit?
Being prepared ahead of time can make a world of difference in a dental emergency. It can be a good idea to create a kit that you store at home, in your car, or even in your child's backpack. Be sure to include:
A small container with a firm lid (for lost teeth or restorations).
Our office's contact information.
Sterile gloves (ideally latex-free).
Cotton balls.
Gauze pads.
Petroleum jelly.
Small mirror.
Over-the-counter anti-inflammatory medicine for kids.
Ice pack.
Dental floss.